OK, so this is a head scratcher, and I think I spent a month pondering the problem and faffling around second-hand shops, poking though boxes of old belts and wondering what to do. The ideas on Padawans Guide and on here
Darren makes this very good suggestion: "Instead of making a leather loop to cover the belt buckle,try removing the buckle and add about two to two-half inches of velcro that matches the color of the leather." Thanks Darren!
didnt really strike me as what I wanted - Plus all you could get was white or black velcro. I came home one day with a bagful of old belts and started playing about. Finally I came up with a plan. Please note that I was making it at every step measured on me, and I think this is how to get away with the plan..Also please note that this is made for a specific fan-film character, so you may want to change some aesthetic ideas.. Anyway!
So I finally chose a wide brown belt, and a narrow darker one that had a more sci fi looking buckle (you try buying any belt buckles that look sci fi, in this neck of the woods !!!!) On the big one I found that the holed end fitted through the little loop REALLY tightly just before the buckle, and on a gamble, I cut the buckle off.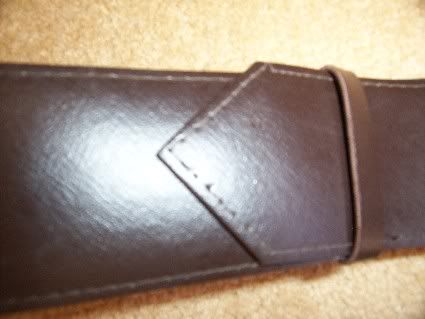 Then, measuring everything up on myself, sewed the buckle end of the narrow belt onto the wide one, facing the other way.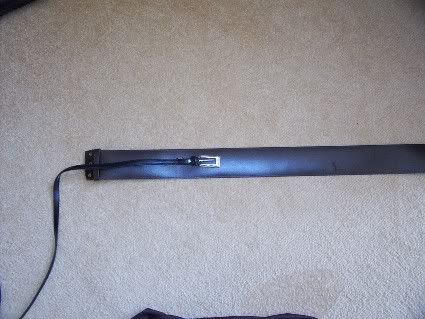 Now what I found was that if you concentrate on putting on the wide belt first, then do the narrow one up in a traditional manner (!), it holds as securely as anything, and the larger one wont slip..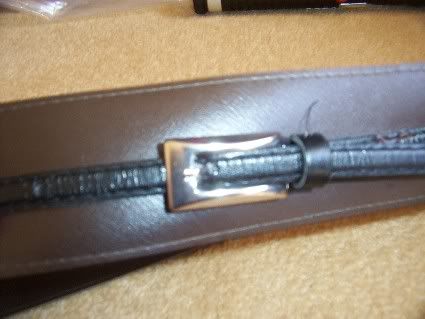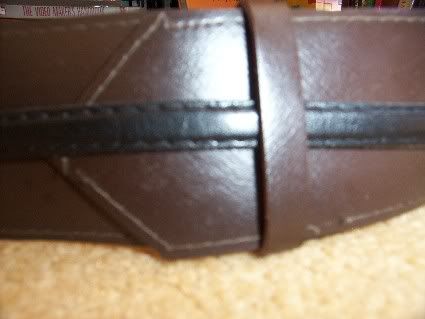 As for this join, its in the ideal place, to one side to be easily be covered by a pouch. If sewing leather get strong thread and special needles for sewing leather. And check for loose threads after (as youll see theres even ones shown up in the pics here!) I think you have to make this to measure, to get away with it!
For the rest of the belt making process I will refer you to the aforementioned Padawan's Guide weblink........... this was just a sneaky route though part of the design